It certainly would be no overstatement to say that today, a youngster's life has become as complicated as it possibly can. The degree of parental pressure to succeed on the academic front is immense. Also, a vast majority of parents still nurture this belief that choosing a conventional career path is the only way to succeed in life. The slang 'Mera beta engineer banega' has still got a considerable amount of steam left in it.  Parental pressure often ends up robbing children of the small joys they come across in their lives.
'Wake Up Sid', one of the most well-made coming-of-age comedy dramas aptly portrays the current breed of youngsters. Directed by Ayan Mukherjee, the film stars Ranbir Kapoor and Konkona Sen Sharma. Rahul Khanna, Supriya Pathak, Namit Das, and Anupam Kher play other pivotal roles. The film beautifully portrays the challenges faced by youngsters and college goers in the contemporary world.
I remember watching this film as a 15-year-old teenager. A tight script and stellar performances by both Ranbir as well as Konkona keep the viewer glued to his/her seat.  The film established an instant connection with the college goers because of its sincere take on the issues faced by contemporary urban youth.
10 years down the line, let us take a quick look at the 10 major takeaways from the film:
1. Life is tough, but friends make it better for you
No matter what you are going through, friends are always there to help you. It goes without saying that family occupies and would always occupy the centre stage, but friends too are an important building block of your life. Going out and partying with friends is just a single aspect of friendship. On a broader note, no matter what problem you're facing, personal or professional, friends are always there to calm you down.
2. It's never too late to pursue your passion
This is the most important thing we got to learn after watching the film. Siddharth (Ranbir Kapoor's character in the film) takes his own sweet time to understand that photography can also be taken up as a profession. He keeps taking photographs while hunting for a job and it is his passion that ends up getting him as a photographer in one of the lifestyle magazines.
3. Making an unconventional career choice isn't a bad idea
Not everybody can become a Chartered Accountant or doctor. It is absolutely fine if you are not planning to go the conventional way. No profession in life is easy as there are challenges everywhere, but in the long run, it is your interest and passion that help you sustain your profession. Sid was able to rekindle his love his love for photography after he moves out of his parents' house after having a heated argument.
4. Your first paycheck is always special
Ah, nothing can beat the joy one gets when he receives his first paycheck. Sid goes running to meet his father to show him the first paycheck he has received. The amount doesn't matter, but the experience does.
5. It hurts when you fail but your friend clears the exam:
Let us just accept it. No one wants to fail, not even the most ignorant souls within the classroom. It really hurts when, despite putting all the hard yards, one fails the semester exams, but it hurts, even more, when your friend clears the exam and you don't. So, to top it all: Never believe a friend when he says: 'Arre bhai, tu chinta naa kar. Fail honge toh saath mein".
6. Stepping out of your comfort zone becomes necessary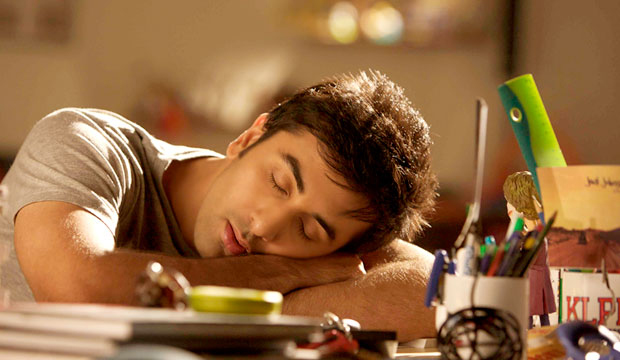 It goes without saying that living on your 'Daddy ka cash' is tempting. As a student, most of us aren't bothered about where's the money coming from, but once we start earning, we get to understand that earning money isn't all that simple as it appears to be. Parents pamper their children by fulfilling all their needs and wants. Children aren't aware of the hardships there parents have gone through and take everything in life for granted. Sid too, like every other urban youngster, nurtures a 'chalta hai' attitude towards life, but things take a turn when he is 'forced' to look after himself.
7. Mumma always helps. No questions asked
That's a universal truth. Your mum can't stay away from you no matter how much both of you fight. The film succeeds in portraying the mother-son bond wherein Sid's mother wants him to return despite the fact that he is careless and takes everything for granted. She even pays a secret visit to Aisha's apartment when Sid isn't around to hand her some money and mangoes. Seriously, mumma always cares, no matter how big a devil you are.
8. Running away from hardships is never an option
Another important lesson. Running away from your responsibilities isn't an option. There comes a time in everybody's life when coming to terms with your situation is the only choice you have. Handling your problems on your own not only makes you independent but also adds significantly to your confidence. Sid realizes this after he moves in to live with Aisha.  
9. If you're passionate about something, your parents will always understand
It's a given fact. Parents want their children to succeed in life, which is quite understandable. They want their children to have a life of their own i.e. they want their children to be independent. Which parent doesn't want this? Sid is always at sixes and sevens with his father but runs all the way to his office after he receives his first paycheck. He tells his father about his love for photography and how he has been able to carve out a career out of it. Both papa-beta embrace and the film ends on a positive note.
10. And finally, getting wasted with friends is never a bad idea
Do I really need to explain this, or can you read my mind? XD.
P.S.: For those of you who want to watch the film, here's the link
Image source: Google images
Video Source: YouTube