December's here. Yes, Christmas is around the corner, which means we will get to see some lighthearted comedy films. Also, most of us have started loving title puns. 'Falling Inn Love' happens to be a prime example.
Now, we have The Knight Before Christmas, a film that features a Knight who's on a quest that needs to be completed by midnight on Christmas eve. Well, if you are tired of watching those slam-bang action flicks and want to watch something lighthearted, then The Knight Before Christmas just has to there on your list. Let us take a closer look at the film.
A brief overview
The Knight Before Christmas follows Sir Cole (Josh Whitehouse), a 14th century Knight who gets transported to 2019 from 1334 as part of a quest to transform into a 'true knight.' Here, he gets to meet Brooke Winters (Vanessa Hudgins), a cynical teacher who doesn't believe in love. According to her, knights in shining armour do not exist. The rest of the story deals with Sir Cole's adventures in the modern world.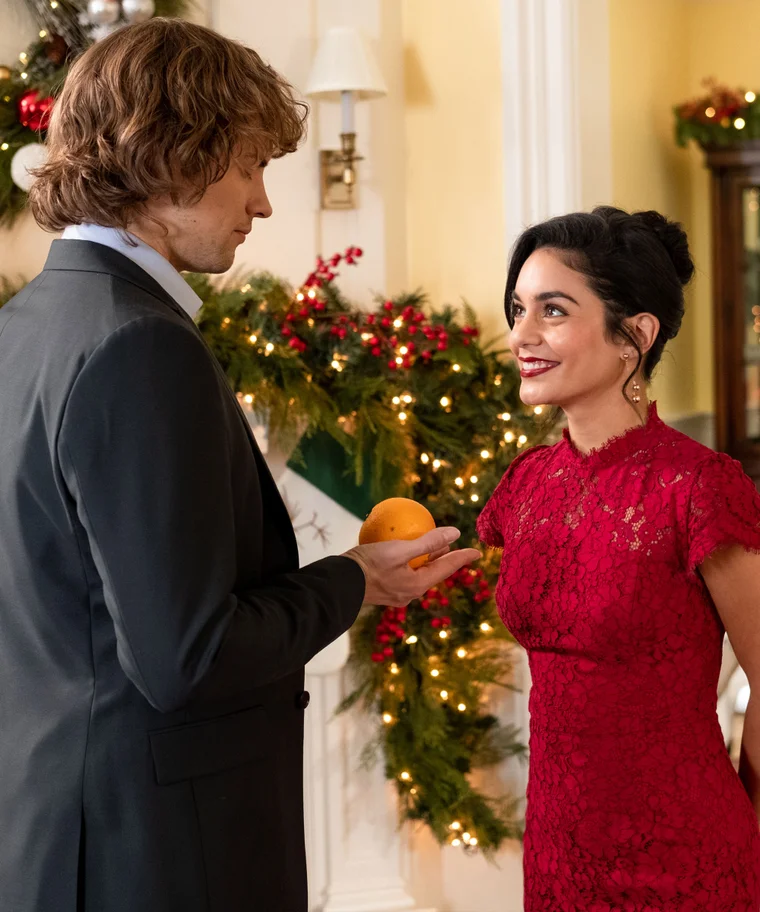 An engaging yet simple plot
The plotline is quite simple– there's a lovely young lady who doesn't believe in love. Fifteen minutes into the film, she bumps into Sir Cole, a handsome knight. In all fairness, the story has nothing new to offer. It has all the elements of a classic children's' fairytale. The predictability of the plot does leads to an element of monotony (at times). Watch it, and you'll be able to predict just everything.
Performances
Josh Waterhouse is the star of this medieval rom-com. He looks perfect in that shining armour of his. Girls are bound to go 'aww' over his 'chocolate boy' looks while watching the film. He nails his part to perfection.
Let us discuss Sir Cole in detail. He is our knight in shining armour. His name sounds continually like Sir Cool (read: circle) as the other actors mouth it. He comes from Norwich (1334) and lets us know that he was knighted by King Edward III' six years ago.' Cole says that he hasn't had the opportunity to see his parents since he was sent away to be a squire while sympathizing with Brooke over the loss of her parents. This guy can bring down a Christmas tree with a single stroke of an axe. Also, he loves chocolate mead.
Vanessa Hudgins plays Brooke Winters ( that surname sounds interesting). Less than five minutes into the film, she says, "We all grow up fantasizing about being a princess, and finding true love with a knight in shining armour and living happily ever after, but the thing is, that's all it is. A fantasy." Boy, and I thought I was disillusioned.
Hudgins hasn't been provided with much material to work with despite being the film's producer, but looks quite believable. Her dialogue delivery sounds quite convincing, and she ends up breezing through her role with ease.
What works
The Knight Before Christmas is your rudimentary rom-com flick. If you wish to enjoy the film, then keep your brains aside. If you happen to search for logic in just about everything that you come across, then don't watch it. Moving on, the film has a much broader (and moving) message to convey. The film makes us realize how fortunate we are. It motivates and pushes us to lend a helping hand to those who aren't as fortunate.
What might not work
Do keep your expectations in check if and when you are planning to watch the film.
The verdict:
The Knight Before Christmas is your lighthearted rom-com that makes for a decent one-time watch. It's one of those gushy-mushy films that get you in the mood for Christmas.
Rating: 3/5